Anthony Duncker, Deputy Director of the Field Personnel Division (FPD) UN Headquarters New York and Naoual Driouich, Chief of Human Resources Section of UN Volunteers (UNV) Boon made detailed explanations to about 40 Japanese who are interested in joining the UN system.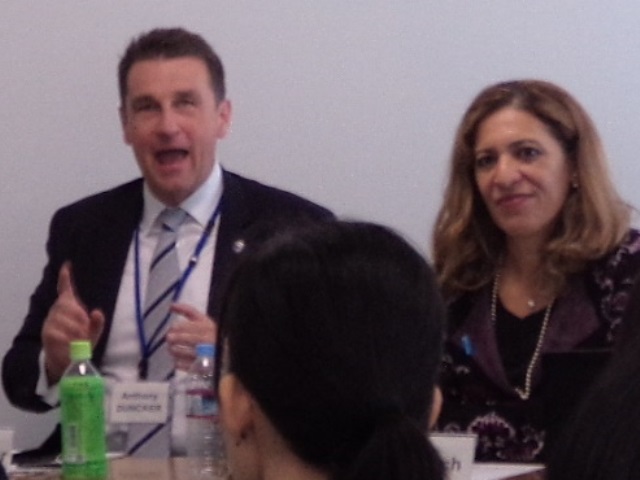 Mr. Anthony Duncker explained in detail the trait and latest trends of UN human resources management. He provided guidance on how to write effective UN P11 forms and undergo competency based interviews.
 Mr. Duncker informed the participants that the United Nations now has over 130 field offices, which include peacekeeping and political missions and humanitarian field operations, and they play an essential role in identifying, highlighting, and responding to emerging challenges. While the work may vary greatly, the one unifying factor is the opportunity to make a difference, both in the world and in your own life. Together with its partners, the UN is tasked with a variety of responsibilities, such as providing and coordinating humanitarian assistance; promoting and protecting human rights; promoting the wise stewardship of the global environment; assisting countries to combat the supply of illicit drugs, crime and corruption and; providing information on the Organization and its activities in the various locations in which it operates.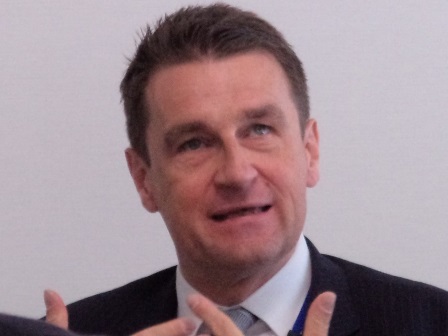 United Nations peacekeeping and political missions have evolved over time to respond to different conflicts and changing political landscapes. Civilian peacekeepers work as administrators and engineers, police officers and legal experts, economists and electoral observers, specialists in civil affairs and gender, as well as experts in logistics and human rights among other specialized functions. International positions have two categories, Professional and Higher and Field Service, which are distinguished by levels of responsibility as well as education and work experience requirements. Mr. Duncker emphasized that the UN fosters gender equality and encourages applications from suitably qualified and experienced women across the full range of career opportunities particularly in the more "non-traditional" field careers such as Aviation, Logistics or Engineering.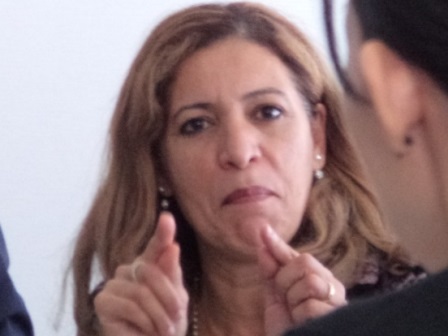 Ms. Driouich informed the participants that UNV is headed by Olivier Adam (France), the Executive Coordinator, based in Bonn, Germany. UNV has a staff of around 150 at headquarters, and almost 7,000 volunteers deployed in the field. In 2016, UNV also had 12,600 UN Online Volunteers completed 22,700 online. UNV has a liaison office in Tokyo along with an Office in New York, four Regional Offices in Bangkok, Dakar, Nairobi and Panama City that develop regional interventions to advance peace and development, and around 80 Field Units that represent the organization at the country level.
 Ms. Driouich then explained how to become a UN volunteer. The first step is to determine whether you meet the minimum requirements that included the following. You must be 25 years old and older (no upper age limit) and have a university degree or higher technical diploma. You must have at least two years of relevant work experience in a professional background; good working knowledge of English and second UN language, e.g. Spanish or French. She indicated as important commitment to the values and principles of volunteerism; ability to work in a multicultural environment; and willingness to work with people and local organizations. UN volunteers must have ability to adjust in difficult living conditions and sometimes remote locations; strong interpersonal and organizational skills.
 She advised that if you meet these requirements and have desire to help others, you should apply for a UNV position by registering your profile in our Global Talent Pool. She then explained in detail how people with proper profiles from the Talent Pool are matched with assignments offered by UN partner agencies. Approximately 2,000 assignments become available per year. Most assignments are filled through the Global Talent Pool without being advertised. Only special calls for assignments in highly specialized areas or in high demand are advertised via this website.