The first meeting of the GPAJ Executive Committee was held on June 13 at Le Gourmand Bistro in Ebisu in preparation for the 2018 Annual Research Convention to be held on December 8 at JICA Research Institute at Ichigaya. Nine members commenced their work to be coordinated by Professor Kurosawa as Executive Chairman. (Kenji Nakazawa)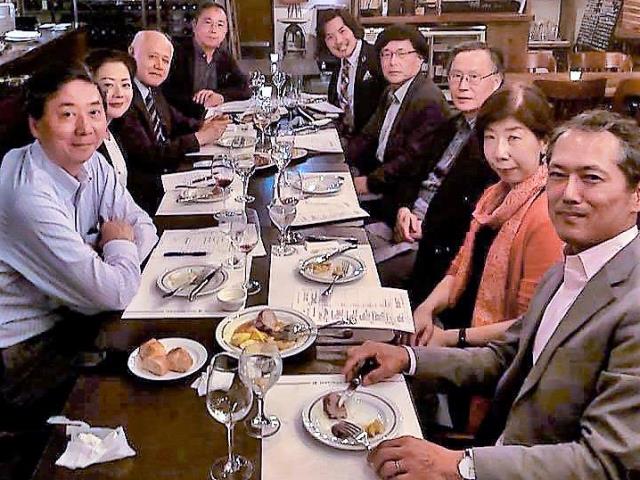 The participating GPAJ members of the Preparatory Committee were, from right to left, Professor Takaaki Mizuno, Former UNDP Country Director Ms. Setsuko Yamazaki, Professor Sukehiro Hasegawa, Professor Satoru Kurosawa, GPAJ Secretary-General Masaki Tanimoto, GPAJ Communication Director Kenji Nakazawa, Ambassador Tadanori Inomata, IOM Chief of Mission Ms. Mio Sato, and JICA Senior Advisor on Democratic Governance Ken Inoue.
 The meeting moderated by Professor Kurosawa and attended by 9 members agreed on the following:
The conference will be organized by GPAJ with the support from the Academic Council on the United Nations System (ACUNS).
As the theme of this fiscal year, the Committee decided to combine two major topics Peacebuilding and Sustainable Development Goals(SDGs). The participants will discuss such issues as "Peacebuilding and Sustainable Development Goals (SDGs): how they are interrelated? What is the role of the international community? What is the role of Japan?". Details and reporters of the conference will be worked out in the coming months.
The committee members also agreed on the allocation of various tasks among them with an aim to facilitate all the preparatory actions to be taken in a timely manner.
 The participants then discussed the distribution of various functions among the Committee members.
(Kenji Nakazawa)