Professor Yuji Suzuki, Director-General of the Federation and Ms. Chiharu Kawakami, Director for Administration, presided over the meeting attended by more than 200 delegates from all over Japan.
 Director-General Suzuki informed the participants of activities carried out by respective UNESCO associations in various part of Japan including Hokkaido, Tohoku, Kanto, Chubu, Kinki, Chugoku Shikoku and Kyushu. He indicated that the next national conference will be held in Hakodate, Hokkaido, on July 7 and 8, 2018. The participants also learned about the latest development concerning the World Terakoya Movement, the Education for Sustainable Development (ESD), Youth development programs, publication of newsletters ad pamphlets. They also reported on the ESD international exchange program, the Science School, the Green Painting Contest, the UNESCO ESD Passport.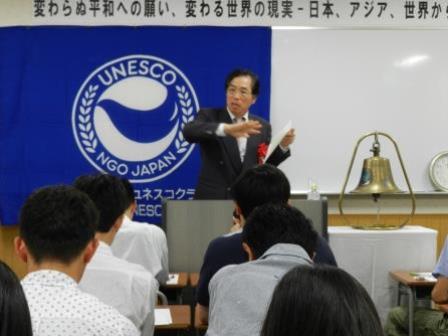 For the first time, I attended the meeting of the UNESCO Federation and was impressed by the vitality and enthusiasm of the organizers and participants who came from all over Japan. Support they provide for the education of children in developing countries as part of the World Terakoya Movement. Terakoya refers to a 'temple school' that taught children a private elementary school in the Edo period when ordinary children were hardly educated. The Terakoya school system for the children of commoners operated at Buddhist temples in the late feudal period. The curriculum consisted of reading and. writing of Chinese characters and the study of abacus in the more commercial districts. The UNESCO Associations of Japan were active in supporting schools in Afghanistan, Cambodia, Myanmar, Nepal and other countries.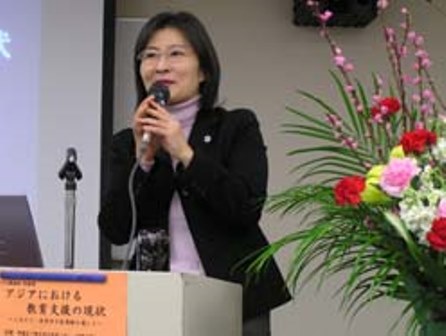 The fund raising campaign through the collection of unused New Year post cards was impressive. Secretary-General Kawakami explained to me more than one million cards had been collected and nearly half a million dollars equivalent in Japanese yen were raised.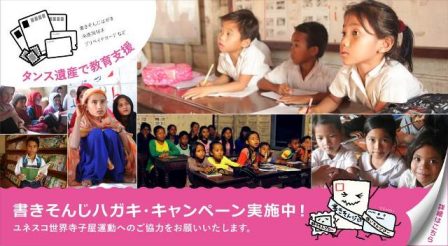 The Preamble to the Constitution of UNESCO declares that "since wars begin in the minds of men, it is in the minds of men that the defenses of peace must be constructed."
 It was a good start of the New Year. Thank you, UNESCO President Suzuki and Secretary-General Kawakami for having invited me to participate in your meeting and learn about the power of educated people with good will to spread Sustainable Education for All and peaceful minds throughout Japan and the World.
Sukehiro HasegawaPresident, Global Peacebuilding Association of Japan